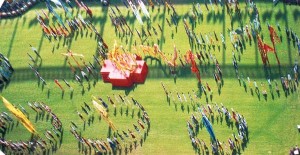 In 2001, the city of Edmonton, Alberta hosted the International Amateur Athletic Federation (IAAF) World Games. As part of the spectacular opening and closing ceremonies for this major sporting event, Randall Fraser trained, equipped, costumed and choreographed a stilt pageant performed by a team of people of eclectic backgrounds, ages and interests.
After the success of the event, he found he had … a team of enthusiastic stilt walkers eager to continue developing their skills and performing. Together, they formed the Edmonton Stiltwalkers Society.
Since 2001, the Edmonton Stiltwalkers Society has performed at numerous events and festivals in Edmonton and throughout Alberta. They have also performed in Ottawa, the Maritimes, Victoria, Oregon, Washington, DC, and at an international circus festival in Nanjing, China.
In September of 2010, the organization became the National Stiltwalkers of Canada.  For our 10 year anniversary in 2011, we began launching a series of new characters, costumes and acts for a new phase of local and touring performances. In May 2012, we moved into our own practice space – The Stilt Dojo – with room for teaching and practicing, as well as for fabricating and storing gear, props and costumes. We are incredibly grateful to our sponsors, our customers, and our audiences for their support.